Tuesday, 25 February 2014
Wednesday, 19 February 2014
I haven't read it when I was a kid and this is my first read.
This story made me feel sad, because no matter how many years ago it was written, it still stays true up to this day.
People often don't appreciate what they have and keep asking too much. And the ones who love us can sacrifice everything to make us happy.
I think we need to give back and not only take-take-take whatever we want. It might be hard, but we need to try, because our own Giving Tree can become a stump, or in worse case - empty space...
It's truly amazing how sometimes children's books can give us more food for thoughts than some of the adult ones. Hm.
Sad story that made me think...
(
1st photo source
,
2nd photo source
)
I'm sure lots of you have read. What do you think about this little, but not less profound children's picture book?
* * * * .
Hey guys! Hope you're all doing well.=)
I saw this on Carrie's (Books and Movies) page and decided to do it myself. It's kinda funny that you can follow the real chain of people getting this post from someone else's blog (an admitting that).=D [well, at least it was funny for me]
5 Books I've Recently Added to My TBR Pile:
1.
Find Momo: Hide and Seek with an Adventurous Border Collie by Andrew Knapp;
2. Ordinary People by Judith Guest;
3. Ready Player One by Ernest Cline (I don't know why it haven't been there already, considering the fact that it's sitting on my shelf for about a year...:/);
4. Wandering Son. Volume One by Shimura Takako;
5. How to Say Goodbye in Robot by Natalie Standiford.
5 Books I'm Planning to Read in the Near Future:
1. The Name of the Wind by Patrick Rothfuss;
2. Tokyo on Foot by Florent Chavouet;
3. The Time Machine by H.G. Wells;
4. Fangirl by Rainbow Rowell;
5. The Complete Persepolis by Marjane Satrapi (in Russian).
5 Books I Own But Still Haven't Read:
1. Cinder by Marissa Meyer;
2. Swamplandia! by Karen Russell;
3. The Lollipop Shoes by Joanne Harris (in Russian);
4. Naughts & Crosses by Malorie Blackman;
5. North and South by Elizabeth Gaskell.
5 Books From Series I Need to Finish:
(maybe it'll be a cheating to mension few books from series, but I don't care, 'cos I don't have to many series I want to finish)
1.,2. City of Lost Souls and City of Heavenly Fire
by Cassandra Clare (this series is awesome, but it need to end!!!)
(The Mortal Instruments Series);
3. Requiem by Lauren Oliver; (Delirium Trilogy)
4. Allegiant by Veronica Roth (will come out in Russian in March/April, just don't want to read it in English for some reason...) (Divergent Trilogy);
5. Harry Potter and the Deathly Hallows by J.K. Rowling, obviously. O.K.,O.K., don't yell! I have my reasons for that, but I'll read this book eventually (I just don't want to ugly cry now).
5 Soon to Be Released Books That I'm Looking Forward to Reading:
(since I'm not really waiting for a lot of new releases, last 4 books will be "soon-to-be-released-in-paperback" ones. Hope you're O.K. with that.=))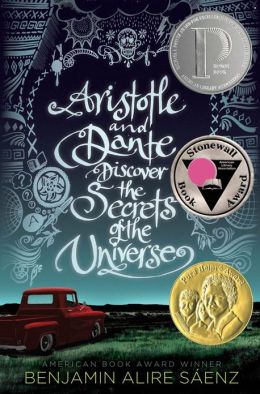 1. Half Bad by Sally Green;
2. Perfect by Rachel Joyce;
3. Aristotle and Dante Discover the Secrets of the Universe by Benjamin Alire Saenz;
4. How to Be a Victorian by Ruth Goodman;
5. The Boy on the Wooden Box by Leon Leybon.
Have you read any of these? If "yes", what do think of them? If "not", are you planning to?
If you made your own The Fives list, let me know and I'll read it.=)
Have a great day, awesome book and READ!
DFTBA!
I'll post here both first thoughts (below) and thoughts after listening to an audiobook version, because they're really different.=)
PLEASE, if you're in any way like me, LISTEN TO THIS SHORT STORY AS AN AUDIOBOOK (it's only 15 min long, guys)!!! Ben Stiller rocks!
IT'S
FREE
on
audible.com
(at least now).
Update from February, 19, 2014
:
Hm, now, after listening to an audiobook narrated by Ben Stiller (brilliant narration, btw) I changed my mind about this short story completely and will be increasing my rating to 3,5, maybe even 4 stars (you'll see 4 stars anyway).
Guess, this story has to be read to you, because whole picture appeared in front of my eyes while I was listening and story itself become understandable and I related to the main character, because who doesn't daydream entering some different worlds or situations, right?:)
Maybe it's just me, but I don't usually change my rating if I didn't like the story (or just book in general) for the first time and
most of the time
I don't do a research if I didn't understand something in the book (maybe it's kinda lame, but oh well...), because I think books should be comprehensible for a readers of pretty much any intelligence (at least it suits my idea of books).
But everything changed with this short story! Because when I was reading it myself almost all the voices sounded the same in my head, but Ben Stiller done an excellent job narrating this story and helped me to like it whole lot. Can't wait to watch the movie now.:)
First thoughts [Feb, 17, 2014]
:
Aaarm, I got a feeling that I've missed something, because otherwise I just don't really understand what was that??? I like reading short stories with rich plot, but this one felt like stream of conciousness or throwing random facts in my face... Weird, tbh, because I haven't read anything like this for a loooong time.
Guess I need to re-read this short story someday, when I'm not sleepy or annoyed.::D . [gave it 2 stars back then]

* * * ,5-* * * * stars.
Wednesday, 12 February 2014
Seriously, Goodreads, you need to add 0,5s to your rating system, because all this is getting ridiculous...
More like 2,5/5 in my opinion.
Guys... Over-hyping sucks.
I was expecting so much more from this YA dystopian novel, and for me it turned into some bad romantic X-Men parody or romance in messed up society. I should carve it in stone that I won't read next "Hunger Games" (not in terms of arena, but in terms of amazingly written dystopian novel), no matter how hard I try and search for it. It was unique story, all kind of awesome and no one should compare any other book to "HG" any more. K?
I don't know why lots of people become team Warner and stuff, maybe it's only after the next novella, but still, he seems to be crazy dude. Like for real.
And one more time in my reading history I liked side character more than main ones (I'm talking about Kenji, if someone's interested). Juliette was too whiny and blushy, like, guys, if I was blushing so many times (3 times on 1 page, man!) I'd thought I have a problem... Also, what a heck, why does she always think about different guy when she's with another one? Didn't get that. Or she's in love with both? Nuts!:/ And with all that fock yeah power, why did she allowed some jerks imprison her. do all that horrible things to her and treat her like she's nothing??? Dang! I wanted another kick ass heroine on my list, but no, not this time.
As for Adam, well, I liked his character way more than Warner,and if I have to choose a team (which I'm sure I don't), I'll be on his side of that cray triangle. But still, I think he's too good. Unbelievably nice. He seems to be flawless and even despite a fact I like him, all that was unrealistic. Maybe I'm too judgmental, but that's what I think. No one is too good these days.:D O.k., O.k., he was fine... (and super hot, and his dark blue eyes... Stop, Juliette, I got it!).
Writing style is another "interesting" thing to talk about... I definitely can appreciate poetically written novel (when it feels like you're reading poem in prose), in fact I love me some more beautiful lines, but this time I felt like author was trying too hard. There was too many lyrical sentences not only for one chapter, but for one page. And I don't know if I enjoyed sitting in poet's head that much.
As for the plot, it wasn't much of it as well. More like too much back story with slight touch of world building, "touch-me-everywhere" at some unenlightened places and "let's talk"-s. I love my dystopians to be more action packed, because I can read contemporary romances anytime and all those kissy-touchy scenes won't be out of place there.
Overall, it was not bad-not good. Some places made me laugh because things were soo messed up and everything was sooo banal there. Like I've said, only one character made me enjoy this novel at least in some way and don't give it 2 stars and he's not even a main character and he missed big chunk of a book. That's not what I want from dystopian novels, even from YA ones, because I don't judge a book by age groups.
I know that my real-life friends (wow, sounds a bit weird, don't ya think?:)) won't read this book, so I can't really recommend it to anyone outside my social networking world. And even there, I don't think this book will be on my top recs list, ever.
It's kinda sad, because I've wached and read only positive reviews from my online friends. Maybe I have different taste then.
Hope this review wasn't mean, I just tried to speak from my heart. O.K., it had some fun parts, too, but they couldn't change my final thought.
Have an awesome book in your hand and DFTBA!
* *,5 stars.